We will inform our readers about one of Pakistan's most cherished motorbikes; whether they're from any other city within Pakistan, the bike will be a hit with them. Honda CG 125 Self Start, 2023 Price In Pakistan, is updated this month. This motorbike more. Honda self-start 125 prices in Pakistan 2023 can be found here. Yes, we're speaking about Honda 125. As of now, the bike has come out with a range of models and comes in a variety of versions that are in use in Pakistan.
The Honda CG 125 is a popular motorcycle model in Pakistan, known for its reliability and durability. The prices of motorcycles can vary depending on the region and dealership, as well as any applicable taxes or fees.
It has unique specs and characteristics. The most important reason people buy the bike from Pakistan is the fantastic sound produced in its ignition. Honda CG 125 Self Start 2023 is more expensive than the Simple Honda CG 125 2023 Model. This bike is among the top-selling bikes in Pakistan of Honda, following the Honda CD 70. Let us begin today's main discussion and this bike's value.
Honda CG 125 2023 Price in Pakistan
Honda Self Start 2023 Price In Pakistan
Honda Self Start 2023 Price In Pakistan is PKR 265,900
Honda CG 125 Colors
The bike is only available in two colors. These include Red and Black. Two colors are available in which the bike is available for purchase.
Honda CG 125 Self Start 2023 Price In Pakistan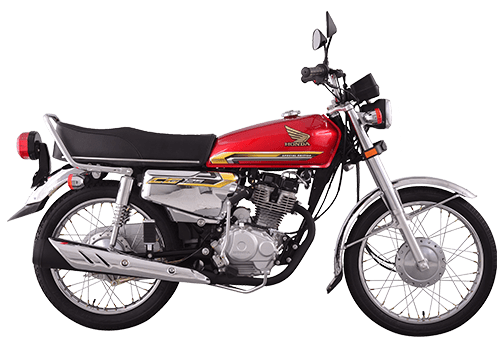 Honda CG 125 Self-Start Fuel Average
As with other models of 125, this bike has a fuel efficiency of around 35 Km/L, which is very efficient, if we look at it in relation to this engine's 125cc capacity.
Honda CG 125 Self Start Features 2023
Self-Start System
Amazing Graphics with an A Unique Side Core Chrome
4 Stroke 250cc OOH Engine
"The Big Break Drum Offers Outstanding Control
5 Gears Transmission
Modern Black Painted Silencer Core with a stunning Sound
All of these are options this bike comes with.
Honda CG self-start 125 2023 Specifications
Engine 4 Stroke, 125cc Air Cooled OHV
Displacement 124.1 cm3
Bore & Stroke 56.5 x 49.5 mm
Compression Ratio 9.0:1
Transmission 5 Speed Constant Mesh
Self-Start/Kick Start for Starter
The Final Drive Roller Chain
Dimension(LxWxH) 1912 727 x 1029 mm
Sitting Height: 765mm
Ground Clearance 133 millimeters
The capacity of Petrol is 9.2 Liters (Reserve 2 Liters)
The Wheel Base is 1212 millimeters
Tire at the front 2.50 to 18 (38P)
The Tire At Back 3.00 17 (50P)
Suspension on Front Telescopic Fork 103mm Travel
Suspension to Back Swing Arm 70 mm Travel
Dry Weight 108kg
Honda CG 125 2023 Availability
The bike is on sale at various Honda bike dealers across Pakistan. Don't be worried should you decide to purchase this bike. Go to your local bike dealer and buy the bike. This article is related to the Honda Self Start price in Pakistan 2023. These are the specifications included in this bike which make this bike even more powerful.