In the realm of smartphones, few names have managed to carve out a niche quite like Vivo. With its commitment to user-focused design and cutting-edge technology, Vivo has proven itself as a formidable player in the industry. Today, we delve into one of their standout offerings, the Vivo S1 4GB, a device that successfully intertwines affordability and innovation.
Vivo S1 4GB Price in Pakistan Features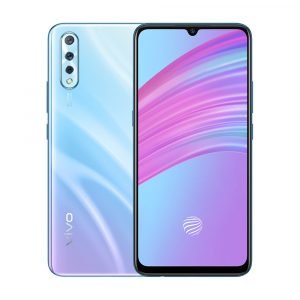 Vivo S1 4GB price in Pakistan
The Vivo S1 price in Pakistan is Rs. 35,999.
Power-Packed Performance
At the heart of the Vivo S1 4GB is its octa-core processor and spacious 4GB RAM, promising swift and smooth performance whether you're multitasking, gaming, or streaming your favourite shows. With 128GB of storage, expandable up to 256GB, space constraints become a thing of the past.
Impeccable Display and Design
Vivo S1 4GB boasts a 6.38-inch Super AMOLED display, enveloping users in vibrant colors and fine detail. It's more than just a phone; it's a mobile theatre in your pocket. The design is equally captivating, with a sleek body and eye-catching color options.
Advanced Camera Capabilities
The Vivo S1 4GB does not compromise on camera performance. Its 16MP + 8MP + 2MP triple rear camera setup and a 32MP front camera ensure every moment captured is a masterpiece.
Long-Lasting Battery Life
No need to worry about running out of charge! With a powerful 4500mAh battery and Vivo's Dual-Engine Fast Charging, the S1 4GB ensures you're always powered up and ready to go.
Vivo S1 4GB Price in Pakistan
Vivo S1 4GB Price in Pakistan is Rs. 35,999, The Vivo S1 4GB is more than just a phone; it's a powerhouse offering at an impressively competitive price. With its remarkable features and performance, it offers value for every Rupee spent. It caters to users seeking a premium experience without breaking the bank.
Keeping You Secure and Stress-Free
In the digital age, security is paramount. The Vivo S1 4GB doesn't compromise in this regard, boasting an in-display fingerprint scanner that offers fast, reliable, and secure access to your device. Rest easy knowing your data is well protected.
Enjoy Immersive Audio Quality
Sound quality is often overlooked in smartphones, but not with the Vivo S1 4GB. The phone's superior audio technology ensures clear and immersive sound, whether you're watching videos, playing games, or listening to your favourite tracks. It's a complete sensory experience.
Robust Connectivity
In terms of connectivity, the Vivo S1 4GB supports 4G, 3G, and 2G networks, along with Wi-Fi, Bluetooth, GPS, and more. It's designed to keep you connected wherever you go, ensuring that you never miss an important call, message, or notification.
Vivo S1 4GB: An Investment Worth Making
Taking into consideration the robust feature set, the superior design and the highly competitive price point, the Vivo S1 4GB emerges as a winning choice for smartphone enthusiasts in Pakistan. It's an investment that promises to deliver value for money and an enhanced smartphone experience.
Frequently Asked Questions
Q: What is the price of Vivo S1 4GB in Pakistan? A: The price of the Vivo S1 4GB can vary based on various factors including retail location, current deals, and whether the phone is purchased with a plan. Please consult local retailers and online stores for the most current pricing information.
Q: Does Vivo S1 4GB support fast charging? A: Yes, Vivo S1 4GB supports Dual-Engine Fast Charging, letting you power up your device quickly and efficiently.
Q: What is the storage capacity of Vivo S1 4GB? A: Vivo S1 4GB comes with a spacious 128GB of internal storage, expandable up to 256GB with a microSD card.
Q: Does Vivo S1 4GB have a good camera? A: Absolutely! The Vivo S1 4GB boasts a triple rear camera setup (16MP + 8MP + 2MP) and a 32MP front camera. This configuration is more than capable of capturing high-quality photos and videos.
Q: How is the battery life on the Vivo S1 4GB? A: With its powerful 4500mAh battery, Vivo S1 4GB offers long-lasting battery life, ensuring that you can use your phone throughout the day without worrying about recharging.
Q: Is the Vivo S1 4GB a good phone for gaming? A: Thanks to its potent octa-core processor, 4GB RAM, and ample storage, the Vivo S1 4GB is well-equipped to handle mobile gaming. You can enjoy your favourite games without worrying about lag or stuttering.
Final Verdict
Embodying Vivo's commitment to innovation and user satisfaction, the S1 4GB is an excellent choice for those seeking a balance between performance, features, and cost. It not only meets the expectations set by its price tag but exceeds them, offering an experience typically found in much pricier counterparts.
Trust the Vivo S1 4GB to deliver a powerful, user-friendly smartphone experience. After all, it's not just a device; it's a companion designed to facilitate your digital journey in the most seamless way possible.