Toyota Hilux has a good variety of its variants, Five variants are present in Hilux and three variants are in Toyota Hilux REVO. Total 8 variants are present in Toyota Hilux. Toyota Hilux is the powerful car of the Toyota company. Toyota Hilux is varied from 2.0L to 4.0L. This engine capacity is the witness power of the vehicle. Toyota company has launched the first seven generations in the period of almost 50 years. Toyota Hilux eighth-generation had launched in 2015. Toyota Hilux is a 2015 vehicle that is further modernized. The Toyota Hilux presents two body variants, Single cabin Vehicle, and Double cabin vehicle.
Toyota Hilux 2022 Price in Pakistan
Toyota Hilux 4×2 Single Cabin Deckless 2,819,000
Toyota Hilux 4×2 Single Cabin Standard 3,074,000
Toyota Hilux 4×2 Single Cabin  3,104,000
Toyota Hilux 4×4 Single Cabin 4,329,000
Toyota Hilux E 2.8 4,719,000
Interior Toyota Hilux 2022
Toyota Hilux is much comfortable as there are two variants are available in the Toyota Hilux, Single cabin and double cabin. The variants in respect to the cabin are present only Toyota Hilux REVO. Toyota Hilux has all single cabin variants. The cabin contains only a two-person seating capacity. It has an advanced brake system that helps it the stability of the car on the road. Toyota Hilux REVO has an advanced tracking system. Toyota Hilux has a Push button start-stop, LED, MP4, MP3, player system, FM/AM, Guge Tachometer, head-up display, dashboard storage place, Hill control system, Hill Assist, and a big water cooler in the cabin.
Toyota Hilux Price In Pakistan 2022 Model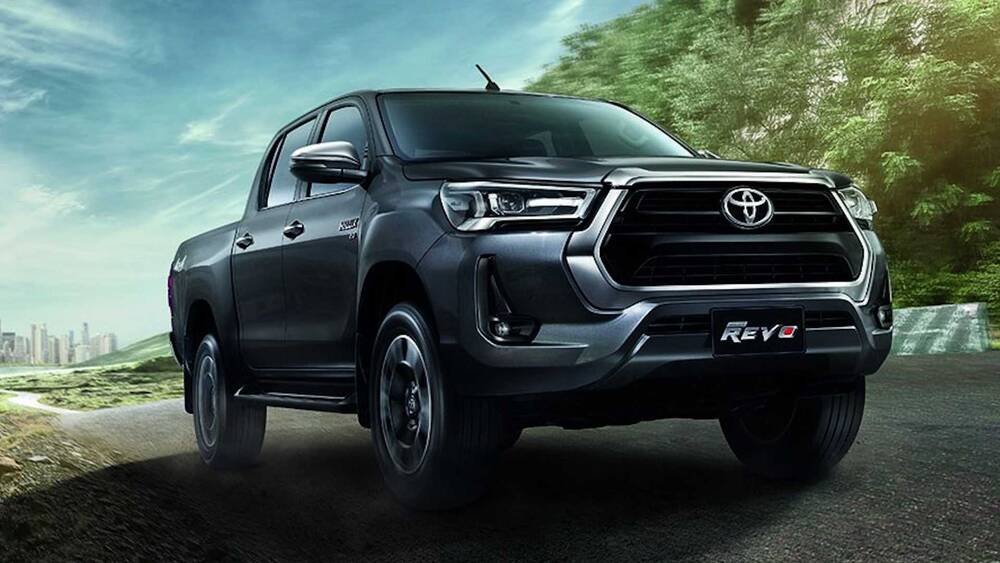 Exterior Toyota Hilux 2022
Toyota Hilux is a cargo van type vehicle, It has a cabin and cargo space for the luggage. Toyota Hilux is a 4×4 vehicle. Two doors front bumper has the fog lights, central grill front save guard. The price of the Toyota Hilux varies due to the feature of the car. The front LED lights and the Toyota company have upgraded the Toyota Hilux for the facility of the people.
Toyota Hilux 2022 Available Variants
Toyota Hilux 4×2 Single Cabin Deckless
Toyota Hilux 4×2 Single Cabin Standard
Toyota Hilux 4×2 Single Cabin
Toyota Hilux 4×4 Single Cabin
Toyota Hilux E 2.8
Toyota Hilux Revo G 2.8
Toyota Hilux Revo G Automatic Transmission 2.8
Toyota Hilux Revo Automatic Transmission V 2.8
Specifications of Toyota Hilux 2022
2.0-liter Petrol 139 HP with 5500 RPM
2.4-liter Diesel 150 HP with 3400 RPM
2.5-liter  Diesel 144 HP with 3400 RPM
2.7-liter Petrol 160 HP with 5500 RPM
2.8-liter Diesel 175 HP with 3400 RPM
Engine power of Toyota Hilux 2022
2.0-liter inline4 Petrol
2.4-liter inline4 Diesel
2.5-liter inline4 Diesel
2.7-liter inline4 Petrol
2.8-liter inline4 Diesel
3.0-liter inline4 Diesel
Body Colors
Pros & Corns
Better Fuel Economy
Road Stability Control
Cargo Space